Come Gem Mining in Franklin, NC - Find Star Rubies
and Sapphires in Our Native Mine
AND/OR enjoy our Custom Crafted Rainbow buckets filled
with Crystal Treasures!!!  Open Rain or Shine
7 days a week from April 1st - October 31st every year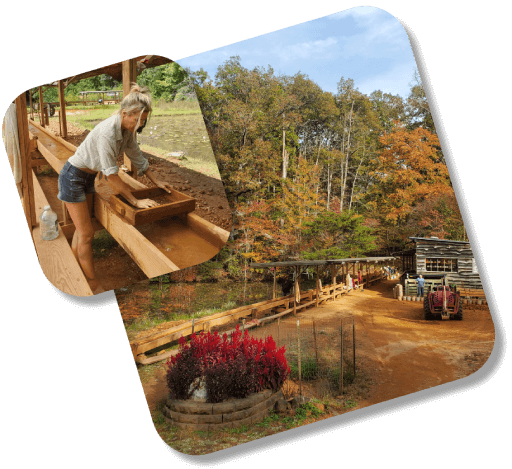 Take Part in a Unique Recreational Activity
Sheffield Gem Mine is a historic native Ruby/Sapphire mine in Franklin, North Carolina that offers a thrilling gem mining experience for everyone. Surrounded by nature in the beautiful Smoky Mountains, we offer a unique and educational activity for visitors of all ages.
What makes our mine so special is the presence of star rubies and sapphires. Keep in mind that star rubies are only found in Cowee Valley and Burma, India.
You can keep your gemstones or have them crafted into one-of-a-kind jewelry pieces. We are friends with several lapidaries in town that would love to assist you.
Play in the dirt and discover rubies, sapphires, and other gemstones. We ensure a kind atmosphere with fun-loving staff to help make your gem mining experience one to remember. You can share these special moments with your family and friends!
Many have asked and finally we've been able to make our native dirt and rainbow buckets available to SHIP TO YOUR HOME!   We have pricing for Single bag or Two bags and can customize to your needs.  Email for details. Sending you all Ruby Love and Luck!!!
From Franklin take Hwy 28 to Cowee Creek rd, which comes up just past the BP station, veer right, and you'll pass the Cowee School, stay on Cowee Creek till Leatherman Gap Rd, where you'll take a left, and then you'll see our big sign on the left as well.
From Hwy 441, take Sanderstown Rd to Hwy 28 and make a right, then follow the directions above.